Beccles Townlands Charity - News & Events
During the course of a year we are pleased to support Beccles organisations and events that are of benefit to the town.  The following are some of the most recent initiatives we have been involved in.
Beccles Royales Gymnastics Club
Clubs such as these are a huge asset to the town, offering healthy activity to young people from 5 to 18 years, while also developing their social skills and team-building awareness.  As a result of Covid the Club's funds were severely depleted as they prepared for re-opening on 12th April this year.  Together with some Government grants, Beccles Townlands Charity, among others, was pleased to contribute to ensure that this popular, thriving club could continue its work with the youngsters of Beccles and beyond.
The Club is affiliated to British Gymnastics and Eastern Counties Gymnastics Association and is run by a team of dedicated enthusiasts, both volunteers and parent helpers, led by Louise the qualified Head Coach.  The club is always looking to recruit more helpers, either paid or volunteers.
In addition to gymnastics for girls and boys from the age of 5, the club holds Parent and Toddler, soft play sessions for under 5s and Pre-school structured classes for those aged under 5 years, that are looking for more than just playing.  Coaching courses for gymnasts and helpers, who are looking to gain qualifications, are also on offer.
Participation in regional and county competitions in Bury and Ipswich enable the gymnasts to put their skills to the test with many successful gymnasts attaining medals and the Club has several "Suffolk County Champions".
The club can be hired out to individuals for birthday parties, to groups wanting to take part in exercise classes, fitness clubs, school year groups, or other sports looking to train indoors during winter months.
Beccles Commemorates a Royal Event
On Monday 27th September 2021 a small but significant ceremony took place at Beccles Bell Tower to commemorate an event in the town 350 years ago to the day.  The event in question was the passage of King Charles II through Beccles in 1671.
Apart from honouring such an important royal event in the town's history, the Feoffees wanted to mark their Charity's involvement all those years ago.  In addition to paying for gravel to be laid in the streets to ensure safe passage for the king they also, as was their custom, paid for the town bells to be rung.
Therefore it was decided to have the bells rung out at midday on the anniversary and to present the ringers with a cheque in appreciation for their services to the town over the centuries.  The Collector of the Feoffees, Mr Mark Jermey, presented the cheque to the Tower Captain, Kate Gill.  Those in attendance included Mayor Richard Stubbings, Beccles and District Museum Chairman Barry Darch, Museum Trustee Michelle Golding and Feoffee Jennifer Langeskov.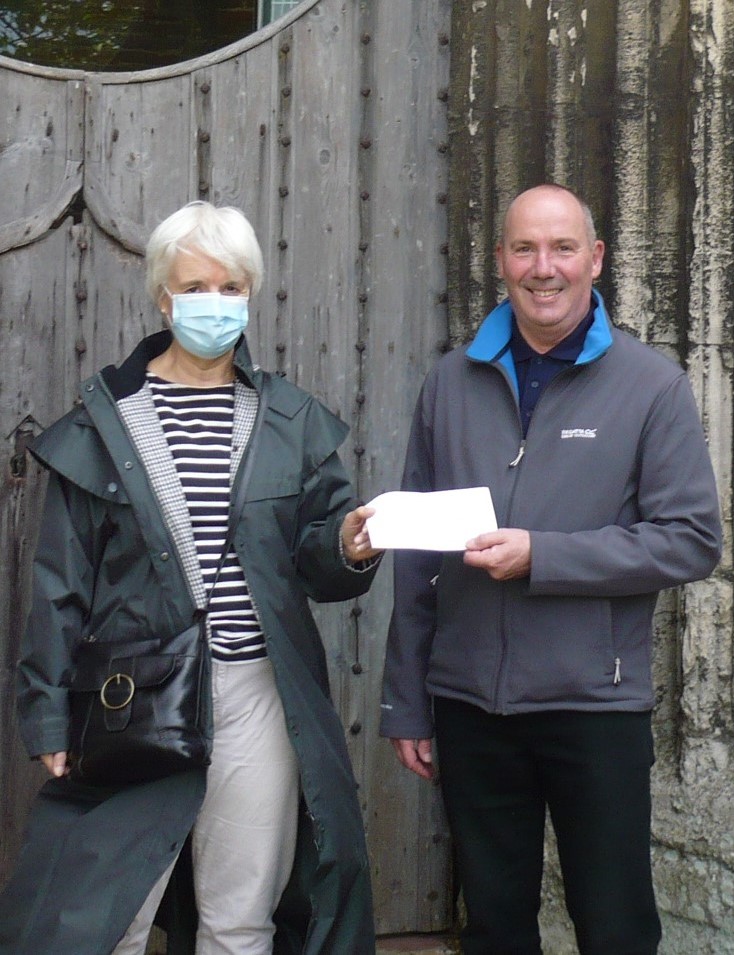 Another Beccles success story is that of the Lido in Puddingmoor, a heated open-air swimming pool which has existed since 1959.  When the Town Council was no longer able to support it local volunteers worked tirelessly to ensure its future and re-opened it in 2010.
However, it was not all plain-sailing and over the years it became increasingly apparent that considerable work needed to be carried out if it were to continue as a viable operation.  Beccles Lido Limited (BLL) sprang into action and started an intensive fund-raising campaign which Beccles Townlands Charity was pleased to support.  Our grant was used in part to resurface the road leading down to the pool which enabled the Lido management to convince various other funders that the project was real and well supported in Beccles.  This led to significant funding from other organisations which enabled the project to go ahead.
What started as a £200,000 repair and relining project turned into a £600,000 complete refurbishment of every aspect of the pool.  Excellent project management meant that all works were completed to schedule in Spring 2020 with a view to opening in May as usual.  Sadly Covid-19 put paid to those plans as the country was put into lockdown.  Finally the Lido re-opened on 20 July for a successful summer season.  This included an increase in the number of swimming clubs from 2 in 2019 to 6 in 2020, due to the ability to remain open until 10 pm thanks to the new underwater lighting.
 An immediate effect of Covid was reduced income due to lockdowns and reduced numbers allowed in the pool at any one time resulting in only 25,000 swimmers in 2020 compared to nearly 50,000 in 2019.  Swimmers were only allowed one hour so admission prices had to be reduced and opening the café was no longer viable.  However, there were positives.  The decision was taken to extend the season by remaining open for the first time during the Autumn and the introduction of Winter  Chill Swims which proved very popular. After the third lockdown the pool reopened on 29 March, heated, two months earlier than ever before and the plan is to stay open and heated until the end of October.  There will then be cold water swimming throughout the winter.  So the Lido is now an all year round facility.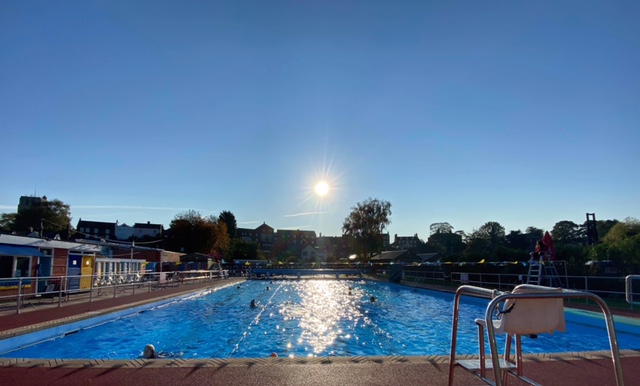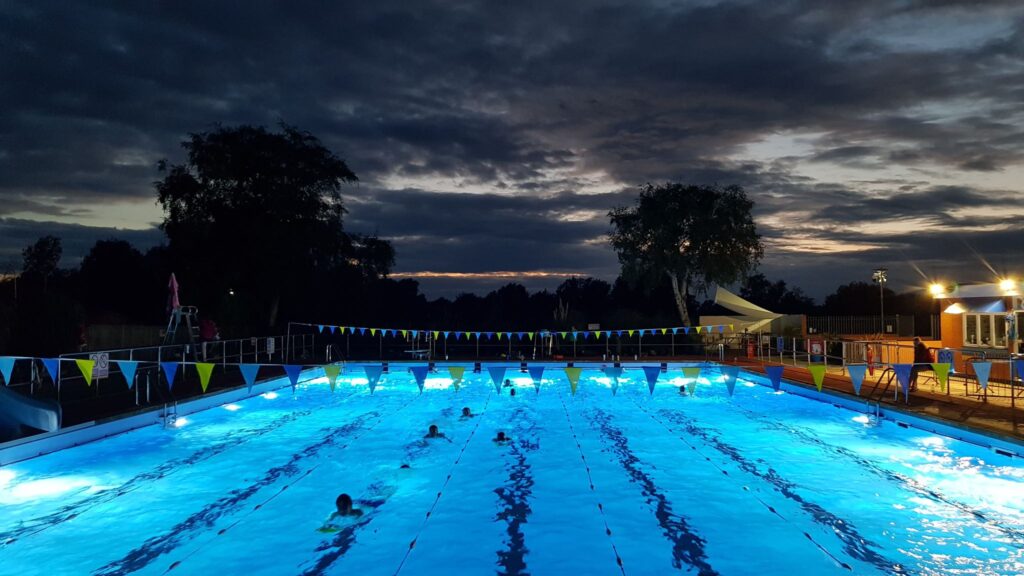 Beccles Lido by day and by night.
The intention now is to continue with the booking and lane systems, which in many ways is more efficient and will prevent the build-up of long summer queues while enabling individuals to be more appropriately catered for –  particularly the disabled or those with special needs.
Recent experience has shown that Beccles Lido is so much more than just a swimming pool.  It provides both physical fitness and mental well-being to swimmers and the opportunity to meet and socialise.  As Shaun Crowley, BLL Managing Director, puts it:  'We are a community hub and we enrich people's lives.  When we finally get back to normal, post-Covid, it will be a new normal, but we believe it can be a better normal, for our swimmers and their fitness and their mental well-being, for Beccles Lido Limited and for the sustainability of Beccles Lido.  BUT also for the whole UK open air and open water swimming community, of whom we are proud to be a part'.